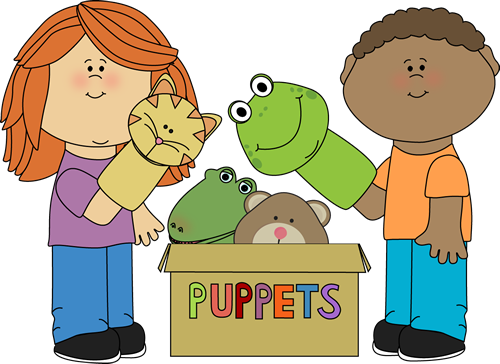 Make a puppet show at home! 
The Youth Services Department has a large collection of puppets that are available for check out.  Puppets may be checked out for three weeks, with one renewal available.  While there is no limit on how many may be checked out, standard $0.10 a day overdue fines do apply. 
PUPPETS ARE CURRENTLY UNAVAILABLE FOR CIRCULATION. 
PLEASE CHECK BACK FOR UPDATES.
The following puppets are available: 
Happy Rabbit
Holland Lop Rabbit
Chipmunk
Loon
Crab
Sniffing Rabbit
Turtleneck Turtle
Rabbit (Stage)
Bumblebee
Anteater
Long Legged Monkey
Black Cat 1
Flying Squirrel
Little Chipmunk
Rattlesnake
Camel (Stage)
Iguana
Abert's Squirrel
French Bulldog
Little Owl
Kangaroo with Baby
Cavalier King Charles Spaniel
Cocker Spaniel (Stage)
Bobcat
Eastern Chipmunk
Orange Tabby Kitten
Wombat
Standing Lop Rabbit
English Bulldog
Moose
Macmutt Puppet
Brown and White Puppy
Black Cat 2
Rat in Tin Can
Harbor Seal
Happy Whale
Mountain Lion Cub
Mole
Bald Eagle
Ringtail Cat
Giraffe
Magic Rabbit
Quahog
Tyrannosaurus Rex (Stage)
Black Labrador Puppy
Dragon in Turret
Red Octopus
Sea Lion
Brown Bat
Sea Turtle
Stingray
Fox
Little Puffin
Turtle
Emperor Penguin
Large Hermit Crab
Robot
Frog in Spaceship
Yellow Labrador Puppy
Gecko
Snail
Reindeer
Baby Dragon
Sloth
Barn Owl
Bear in Tree Stump
Opossum
Gray Rat
Basset Hound
Rooster
Red Squirrel
Polar Bear
Chameleon
Dog (Stage)
Elmo
Scarlet Macaw
Grover
Bison
Amazon Parrot
Toad
Dinosaur Egg
Raccoon (Stage)
Big Bird
Baby Platypus
Mickey Mouse
Elephant
Black Face Sheep
Lion
Jack Rabbit